Please note that this is a link up that focuses on individual self discovery goals. The goals you see below were set
by me
and
for me
only. If you choose to link up with us, please create your own goals to work toward and to update us on. If you are unfamiliar with Project: Do You, check out
this post that introduces it
before proceeding.
#1 - Read one book per month.
Still reading my financial book: The Money Book for the Young, Fabulous, and Broke by Suze Orman. Last week, I mentioned a retirement plan. Well, I am proud to tell you that I talked with my HR people, made a lot of emails, got frustrated, felt stupid, asked for help, and managed to enroll in a Roth IRA and in mutual funds all by Friday morning.
#2 - Work out on a regular basis.
My workout last Sunday was the best I've had in a long, long time. I don't know if it was the music or what, but I ran almost 5 miles in 35 minutes... I blew my own expectations out of the water on that one!
#5 - Plan a date night ahead of time for each month. Part of my Valentine's Day gift to Trevor was a pre-planned, pre-paid-for date day. We haven't picked out a day to go, but I'm looking forward to it already. However, if we don't get to it until March, I can still say that I planned a date ahead of time for February because our Valentine's Day evening was wonderful - heart shaped pizza, moscato, movies, popcorn, candy, and lots of cuddles.
Our Valentine's Day dinner
#10 - Learn to say no more often. I picked up a partial shift in the ER on Friday afternoon/evening. Part of the way into the shift, the girl that was replacing me on the next shift called and said she wouldn't make it in on time and asked me to stay until 9pm. While we could have used the money, we already had plans to meet Trevor's parents for dinner. Plus, I wanted to get home at a decent time so I could primp for my birthday on Saturday. I felt pressured into saying yes but I put my foot down and told her that I couldn't stay any later. Even though I was harassed a little afterwards, I still felt my decision was the right one and I would have regretted staying late and not going to dinner.
And now for the questions:
What did I do this week to indulge in my passions?
I took some time for myself on Friday night - did my nails, read a book, etc. and
What did I do this week to get my body moving?
Worked out with a friend as planned. Sunday's workout rocked!
What did I learn about myself this week?
I have a guilty conscience when saying no - I will be working on that in the future.
What made me happy this week?
The first set of exams I took this semester really had me bummed and worried about my grades. An announcement from an instructor on Wednesday helped turn that around. Also, yesterday was my birthday and spent hours with loved ones. First, we attended a funeral visitation for one of Trevor's great aunts. While it was somber, it was still nice to see family. We also had lunch with my immediate family, grandparents and aunts. It was a great time! And of course, Trevor and I got to spend a lot of time together which was so wonderful.
Join us on our year-long self-discovery journey!
Grab a button if you'd like, link up with us, and tell us how your Project: Do You is coming along!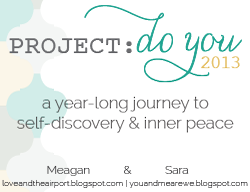 check this out!