July 3 - Travel and plans you have for the summer.
One of my favorite things to do in life is travel. I love being a part of new cultures, experiencing new things, and I love taking trains, planes, and automobiles to get to my destination!
Trevor and I have a trip planned for later this month to go to Chicago and Indiana to visit a couple that we become great friends with on our honeymoon. We share a wedding date and the two of them are pretty much clones of Trevor and I - it's kind of scary how alike we are. We're definitely looking forward to spending a few days with them in the city and at their house. We haven't seen them since we met up last December so our get-together is long overdue!
As you may recall
, I love Chicago. I go as often as I can and try to do new things every time I go. The last time I went with my mom we hung out at Oak Street Beach and did a little bit of shopping around the Gold Coast. When Trevor and I last went, we did more of the museum scene and enjoyed some time at Grant Park. This time around we'll only be there for a little bit so we'll make sure to hit up a couple great restaurants and enjoy our summer evenings in the parks.
What Trevor may be looking forward to the most is our trip to the cottage in August. It's been a few years since he's been there and I've never been - I've hardly seen pictures! It's right on a lake in Northern Wisconsin (if you've never been to one or have never seen pictures of a Wisconsin lake cottage, you're in for a relaxing treat when I post pictures!) and we are going to be there for 3 or 4 nights... it will be a wonderful relaxing time... especially because I'm taking my Big Kahuna test right before we leave, so the lay-around-and-do-nothing-ness will be welcome! Cell phones and internet are rumored to not work there so it may be quieter than we're used to - but again,
that's
so welcomed
.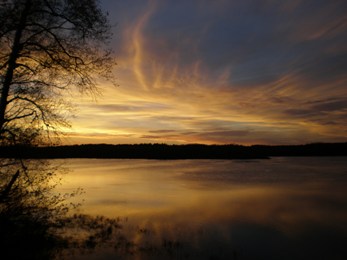 (
source
)
When we get back from the cottage we'll only have a few days and then school will be starting up again. Hopefully, hopefully, HOPEFULLY this will be Trevor's last semester in school, so we will have to put our summery mindset away and get crackin' on school stuff for graduation!
I'm looking forward to these trips because I'll actually get to spend some quality time with my husband! We've both been working so much recently that we are more than ready to reconnect. A few days with friends and dipping our toes in the lake will be perfect ways to do that! Plus, I'll be checking things off our
Summer Bucket List
;)
This post is part of the Summer Blog Challenge. To see more posts inspired by the challenge visit my Summer Blog Challenge page!